The Creative Cookie Exchange theme this month is apples. I don't usually think about apples and cookies together. Apple pie- yes. Apple bread- yes. Apple cake- yes. Apple cookies -no.
So, I had to think about this a bit and do some experimenting. My first experiment was an apple caramel cookie. I didn't really like it very much. It was a little bland and the caramel in the middle didn't really work as I had envisioned.
Apple Bars seemed like a do-able project so I experimented with that and came up with this recipe.
These are really yummy. All the flavors come together to make a really comforting bar cookie. They disappeared quickly, which means they were a hit. I hope you like them.
Brandy Apple Bars
2 cooking apples, peeled and diced (I used Honey Crisp)
1 tbsp granulated sugar
1 tbsp cinnamon
1/4 tsp nutmeg
Mix apples with cinnamon and spices; set aside.
1/3 cup butter, melted
3/4 cup packed brown sugar
3/4 tsp brandy flavoring
1 egg
1 cup flour
1 tsp baking
powder
1/2 tsp salt
Whisk butter and brown sugar together; stir in egg and brandy flavoring. Add flour, baking powder, and salt; mix well. Stir in apple mixture. Spread in greased 8 or 9" square pan. Bake at 350 degrees. Cut into bars. Makes 16 bars.
To join in the fun, just complete the steps below:
1. Write a blog post with recipe and original photo. The theme this month is apples. The recipe can use apples in any form.We would like the recipe to be one you're making for the first time, and photos must be original.
2. Post the Cookie Exchange badge somewhere on your blog so others can join in the fun: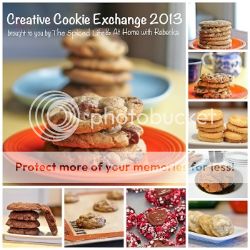 3. Make a good faith effort to visit and comment on the other cookies in the Linky party. We alllove cookies so that should be easy!
6. LINK your blog post below using the Linky tool
You can also just use us as a great resource for cookie recipes--be sure to check out our
Facebook page
, our
Pinterest Board
, and our monthly posts. You will be able to find them the first Tuesday after the 15th of each month! Also, if you are looking for inspiration for this month's theme, check out what all of the hosting bloggers have made so far:
Cider Snaps
from
Cookie Dough and Oven Mitt
Powered by Linky Tools
Click here
to enter your link and view this Linky Tools list...